Logging and forestry work can be dangerous! Help your crew members stay safe with frequent safety meetings. This Chainsaw Safety factsheet, along with the others in this collection, were designed to be used as 5 minute tailgate trainings.
Incident Summary:
Earle, a new log truck driver, arrived at his last logging site of the day around 4:00 p.m.  It was a comfortable, sunny day in early June.  Earle waited in the cab while his trailer was loaded with hardwood.  When loading was complete, Earle pulled up onto the logging road and engaged the parking brake.  He grabbed a chainsaw from the truck and starting de‐limbing his load.  Earle stretched upward, using the tip of the saw to remove a small branch.  The chainsaw kicked back and Earle lost his grip.  Earle suffered a severe laceration to his right arm and a less serious cut on his left arm.  The right arm was amputated about six inches below the shoulder.  The left arm was saved, but Earle lost about 25% use of that arm.  He was not able to return to work.  
Discussion Questions:
What did Earle do wrong?
Could this accident have been prevented?
What are the ramifications of this accident?   
Take Home Message:
Only experienced loggers should operate chainsaws. To avoid chainsaw kickback, do not saw with the tip.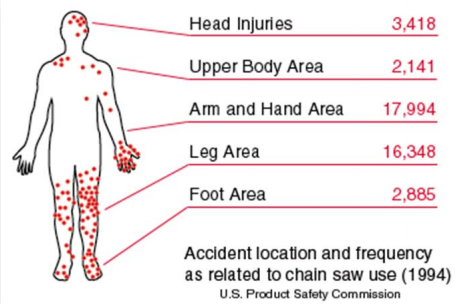 Check the SW Center website frequently for new factsheets: http://www.swagcenter.org/resourcesforestryfactsheets.asp
For comments or suggestions, contact Amanda Wickman at amanda.wickman@uthct.edu or by phone to
903-877-5998 or Nykole Vance at nykole.vance@uthct.edu or by phone 903-877-7935.
---
Created by the Southwest Center for Agricultural Health, Injury Prevention and Education
11937 US Hwy 271
Tyler, TX 75708
www.swagcenter.org
agcenter@uthct.edu
903.877.5998

---