Logging and forestry work can be dangerous! Help your crew members stay safe with frequent safety meetings. This Mounting equipment factsheet, along with the others in this collection, were designed to be used as 5 minute tailgate trainings.
Incident Summary:
A logging crew arrived at their site early in the morning on May 11th.  It had rained the night before and the ground was muddy.  Joe was operating the feller‐buncher to clear out smaller trees.  After lunch, Joe started to climb back into the tractor and slipped on the foot step which was covered in slick mud.  He was not holding onto the machine when he slipped.  Joe tried to catch himself, but he fell to the ground and broke his ankle.  Joe was taken to the hospital and missed three days of work.
Discussion Questions:
What contributed to Joe's fall?
Could the fall have been prevented?
What is the three point contact rule?
Have you ever fallen during mounting and dismounting?  If so, what were the consequences of your fall?  (e.g., injury, medical bills, time off work)
Take Home Message:
Using the three point contact rule can prevent   injury and lost work time.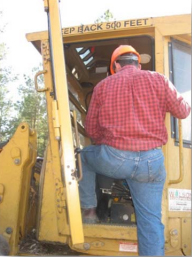 Check the SW Center website frequently for new factsheets: http://www.swagcenter.org/resourcesforestryfactsheets.asp
For comments or suggestions, contact Amanda Wickman at amanda.wickman@uthct.edu or by phone to
903-877-5998 or Nykole Vance at nykole.vance@uthct.edu or by phone 903-877-7935.
---
Created by the Southwest Center for Agricultural Health, Injury Prevention and Education
11937 US Hwy 271
Tyler, TX 75708
www.swagcenter.org
agcenter@uthct.edu
903.877.5998

---