Logging and forestry work can be dangerous! Help your crew members stay safe with frequent safety meetings. This Slips, Trips, and Falls factsheet, along with the others in this collection, were designed to be used as 5 minute tailgate trainings.
Incident Summary:
Harry, an experienced logger, dismounted his machine around 11:30 a.m. to grab his lunch from his truck.  On his way to the truck, he stepped on a 3 inch diameter log.  The log rolled and Harry fell backwards.  He caught himself with his hands, but the impact of the fall injured his wrists.  Harry was in a lot of pain and couldn't drive or operate his machine.  Another logger took Harry to the local hospital.  The fall broke Harry's right wrist and badly sprained his left wrist.  Harry was out of work for 4 weeks.  
Discussion Questions:
Could this incident have been prevented?
Have you ever tripped or fallen on the job? Do you know other people who have fallen on the job? 
How can slips, trips and falls be prevented?    
Take Home Message:
Slips, trips and falls can result in injury, decreased   productivity and lost wages.  It is not always possible   to keep the logging site free from slip/trip/fall hazards.  Whenever possible, step over logs and other debris, rather than on top of them.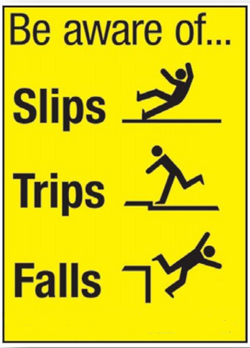 Over a third of all major injuries reported each year are caused as a result of a slip, trip, or fall - this is the single most common cause of injuries at work.
Check the SW Center website frequently for new factsheets: http://www.swagcenter.org/resourcesforestryfactsheets.asp
For comments or suggestions, contact Amanda Wickman at amanda.wickman@uthct.edu or by phone to
903-877-5998 or Nykole Vance at nykole.vance@uthct.edu or by phone 903-877-7935.
---
Created by the Southwest Center for Agricultural Health, Injury Prevention and Education
11937 US Hwy 271
Tyler, TX 75708
www.swagcenter.org
agcenter@uthct.edu
903.877.5998

---