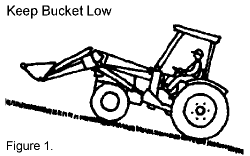 Loaders are versatile and can be a valuable tool for farm work. But because they change the center of gravity and stability of the tractor-loader combination, they can also be dangerous if they are not operated properly. Changing the center of gravity presents a potential tipping hazard for the operator.
A few general precautions will reduce the chance of an accident with a loader.
Read and follow directions in your operator's manual for your tractor and loader. Be sure the loader is installed correctly and does not exceed your tractor's handling capacity.
Keep the bucket low while carrying loads and when operating on hills (Figure 1). A hole or sudden bump can easily upset your tractor if the bucket is carried high. The higher the bucket is carried, the greater the danger of an upset. With loaded buckets, drive forward when going uphill. Back downhill with loads.
Travel slowly. Be careful when turning with loads, especially those that may shift or slide.
Add extra weight on the rear of your tractor to counter-balance the weight of the load on the front (Figure 2). Check your operator's manual for specific recommendations.
Keep the tractor wheels spread as widely as possible. Avoid using loaders on tricycle-type tractors, since the chances of a side upset are increased.
Load the bucket evenly and avoid overloading to prevent upsets. The capacity of the loader is specified in your operator's manual.
Watch where you are going. Avoid holes, rocks, loose fill, or any other obstacle which could upset the tractor. If working inside buildings, watch for low ceiling beams and doorways to prevent being pinned or crushed between them and the tractor. Also, be sure there is adequate ventilation so carbon monoxide from the tractor engine will not build up.
Do not try to operate the hydraulic controls from beside or behind the tractor. Operate only from the tractor seat so you will have full control over the entire machine.
Use the loader only for its specific purpose. Never use it for such things as removing fence posts, towing, or to knock something down. Never allow people to ride in the bucket. If the tractor is to be used in tillage operations, remove the bucket first.
Lower the bucket to the ground when you leave the machine (Figure 3). This will keep children or others from accidentally lowering it and injuring someone.
A tractor with a roll-over protection structure and seat belts will provide you the greatest protection.
If You Are Under 16 ....
A federal child labor law affects you. Unless you are working for your parent or guardian on a farm owned or operated by that parent or guardian, you are not permitted to operate a tractor over 20 pto hp, and certain other farm machinery, although some of these jobs can be started at age 14 with special training.
Persons under 14 may be hired to do any job that is not classified as particularly hazardous if they have the written consent of their parent or guardian. There is one exception: youngsters under 12 are not permitted to work on farms that used 500 or more man-days of farm labor during any quarter of the preceding calendar year.
Publication #: SA - 12.2
---