Vehicle fires sometimes occur while people are filling metal gas cans placed on plastic surfaces. This type of fire usually involves a gas can in the back of a pick-up truck with a plastic bed liner.
Gasoline tends to carry a static electric charge. When pouring gasoline into a can, this charge can build up on the can. If the can is sitting on concrete or the ground, the static charge can safely flow away. But when the can is sitting on plastic, such as the plastic bed liner in a truck, the static charge can not escape because the plastic is an insulator, that is, it does not conduct electricity. A spark can occur between the can and the fuel nozzle and ignite the gasoline.

When the spark occurs in the flammable vapor space near the open mouth of the gas can, a fire occurs.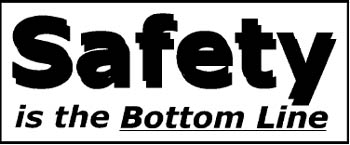 Use only an approved container.
Don't fill any container while it's inside a vehicle.
Always place the container you're filling on the ground and away from other customers and traffic.
Keep the nozzle in contact with the can while you're filling it.
Never use a latch-open device to fill a portable container.
Don't smoke.
While transporting containers, tie them in place.


For more information about tractor safety, visit the Florida AgSafe Network Web site:

http://www.flagsafe.ufl.edu
The following publications are available at your county Extension office and at the EDIS Web site, <
http://edis.ifas.ufl.edu
>. (IFAS Publication Numbers are in parentheses after the titles. The second set of parentheses contains the Web address at which the publication can be viewed.)
Publication #: AE301
---