Stepping over a power take-off instead of walking around a tractor might seem like a time-saving shortcut, but it exposes you to a much greater risk of injury or death.
Often, there's a "recommended safe way" of doing a task and a way that seems quicker but is more hazardous. Many people use the more dangerous shortcut to save time.
However, timed studies show that the time invested in doing a task safely is quite insignificant, especially when compared to the costs of injuries or possible death that could result from the extra hazards involved in the shortcut.
Taking a few seconds to do a task safely may seem inconvenient at the time, but Table 1 shows how little time it takes. Remember that every time you take a shortcut, you are rolling the dice for injury or death.
For some specific examples of the small amount of time it takes to be safe, see Table 2. To put these times in perspective, the total time invested for 100 repetitions of the task was calculated.
Table 1.

| | |
| --- | --- |
| Time Invested | Total Time for 100 Repetitions |
| 3 seconds | 5 minutes |
| 5 seconds | 10 minutes |
| 10 seconds | 17 minutes |
Table 2.
Task

Time Invested

100 Repetitions

Walking down steps instead of jumping off combine
7 seconds
12 minutes
Walking around an auger instead of stepping over it
2 seconds
3 1/2 minutes
Engaging cylinder locks on combine when working near or under head
30 seconds
50 minutes
Getting off mower to pick up something instead of leaning over to pick it up as you drive by
20 seconds
33 minutes
Remember: The time you invest in performing a task safely is minimal when you compare it to the high financial and emotional costs associated with death, injury and disability.
Remember: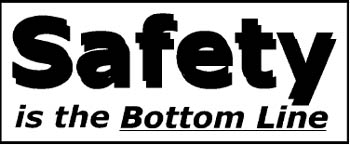 For more information about tractor safety, visit the Florida AgSafe Network Web site:

http://www.flagsafe.ufl.edu

The following publications are available at your county Extension office and at the EDIS Web site, <http://edis.ifas.ufl.edu>. (IFAS Publication Numbers are in parentheses after the titles. The second set of parentheses contains the Web address at which the publication can be viewed.)
Publication #: AE306
---