Objectives

Review:


Purpose of Monitoring

Basic biology of cholinesterase and cholinesterase inhibiting pesticides, basic enzymology

History and physical exam of the handler

Appropriate testing methods and interpretation of monitoring results

Responses to cholinesterase depression

How to investigate for false positives

Setting up a cholinesterase monitoring in the clinic/medical system

Quality assurance evaluation
Identifies hazardous conditions/practices
Increases worker/employer hazard awareness
Assists in medical return to work
Avoids problems from chronic exposure
Influences economic decisions:

Increases costs of production
May influence choice of pesticide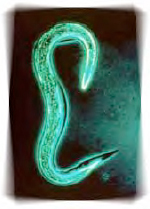 Present from paramecia to sapiens
Very Fast enzyme (perfect kinetics)
Ubiquitous in the human body
Critical for many nervous system functions
An enzyme with a sulfhydral active site
Produced in tissues and blood
Hydrolyses acetylcholine
Present in the autonomic, central and peripheral nervous systems
Excellent web page on the enzyme
http://www.weizmann.ac.il/sb/faculty_pages/Sussman/projects/che.html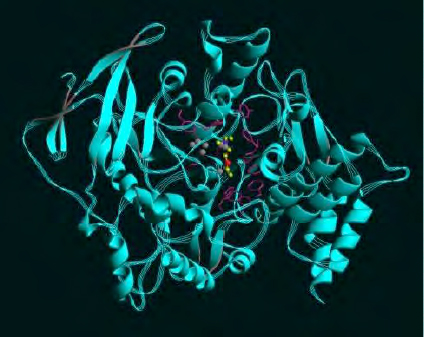 Thought to mediates a nucleophilic attack on carbonyl carbon acylating it and liberating choline and vinegar. Old model explains much but is not accurate.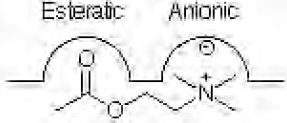 Different enzymes with some behaviors in common
Plasma Cholinesterase

Butyrylcholinesterase, pseudocholinesterase, PChE, or just cholinesterase and ChE

RBC Cholinesterase

True cholinesterase, acetylcholinesterase, or AChE
Floats freely in plasma

Made by liver Rapid recovery from depression

Rapid replacement by new synthesis

Liver disease may affect levels

Sensitive to most ChE inhibitor pesticide exposures
Bound to red blood cells

Made at the same time as the Rbc's

Recovery from depression 0.8%/day

Slower to depress, slower to recover

Low RBC count may cause lower levels Identical to neuronal ChE
Autonomic Nervous System

Parasympathetic
Presynaptic Sympathetic

PNS
CNS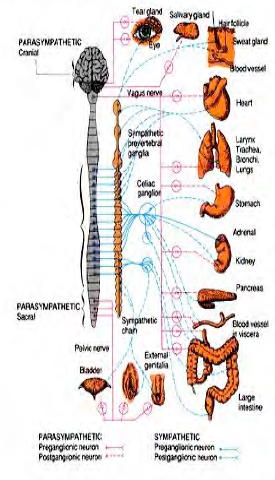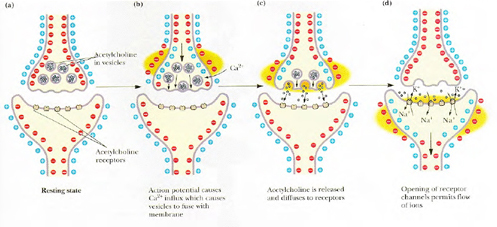 Found at the synapse It turns off the chemical messenger When inhibited the messenger builds Overstimulation results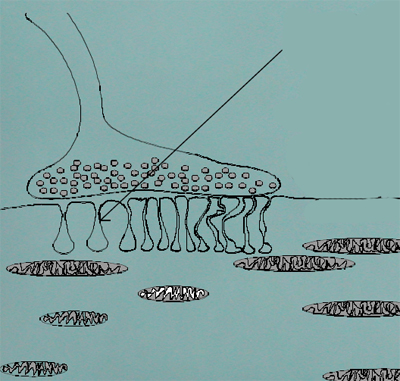 A buffer for poisons
Potatoes
The Calabar Bean
Green Mamba Snake
Alzheimers Treatment with ChE inhibitors

Tacrine, Donepezil, Metrifonate, Galantamine

Metrifonate is converted to DDVP

Myasthenia Gravis

Edrophonium,
Pyridostigmine bromide

Glaucoma
Prophylaxis for Nerve Gas Attacks
Organophosphates

Inhibit irreversibly
"aging of complex"
ChE must be replaced by the body

Carbamates

Inhibit temporarily
No "aging"
Reversal is rapid and level related
ChE reactivates and is ready to go
| | | |
| --- | --- | --- |
| Organophosphate | Oral mg/kg | Dermal |
| Phorate | 2 | 6 |
| Azinphos-Methyl | 13 | 220 |
| Methamidaphos (rat) | 32 | 94 |
| Oxydemeton (rat) | 75 | 250 |
| Diazinon (rat) | 108 | 900 |
| Phosalone (rat) | 130 | 1500 |
| Chlorpyrifos (rat) | 155 | 202 |
| Malathion (rat) | 1375 | 4444 |
| | | |
| --- | --- | --- |
| Pesticide | Oral mg/kg | Dermal mg/kg |
| Aldicarb | 0.5 | 3 |
| Carbaryl | 5 -13 | >1000 |
| Propoxur! | 100 | 1000 -2400 |
| Oxamyl | 5.4 | 3000 |
| Carbofuran | 5-13 | >1000 |
| Methomyl | 17-24 | >5000 |
Mild cases: tiredness, weakness, dizziness, nausea and blurred vision
Moderate cases: headache, sweating, tearing, drooling, vomiting, tunnel vision, and twitching
Severe cases: abdominal cramps, urinating, diarrhea, muscular tremors, staggering gait, pinpoint pupils, hypotension (abnormally low blood pressure), slow heartbeat, breathing difficulty, and possibly death
Extoxnet
http://ace.ace.orst.edu/info/extoxnet/
ChE reflects the toxicant on its target
Integrates exposure over time
The test is widely available
A blood sample all that is needed
BUT!

Baseline is needed
Good lab methods needed
Interpretation and timing important
Sample handling important
Class I and II Carbamates & Organophosphates

DANGER or WARNING


LD 50 of < 50 mg oral or 100 dermal
LD 50 of >50 <500 oral or <1000 dermal
Threshold: 50 hrs in 30 days
Normal Range of cholinesterase activity Normal Range of cholinesterase activity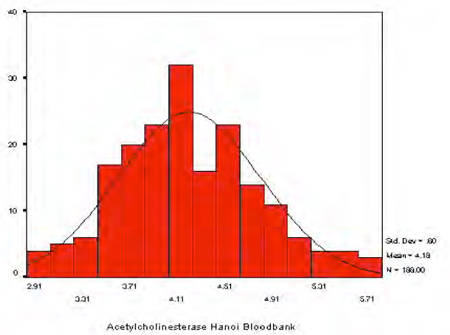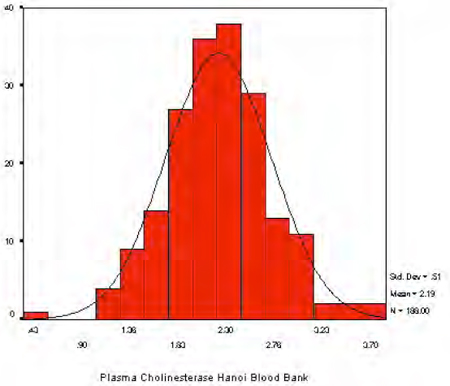 Relatively Stable in the Population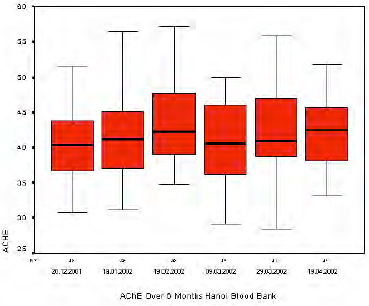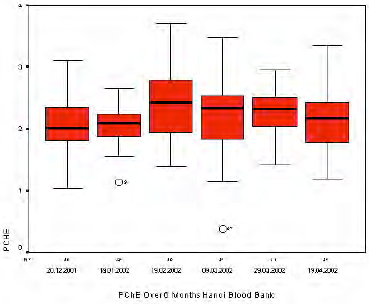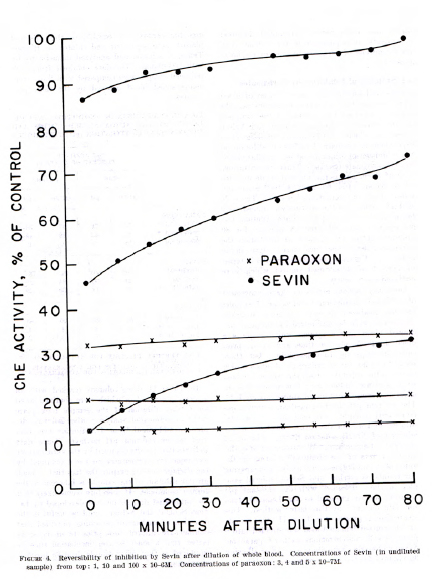 Presence of ChE inhibitor based symptoms
Experience with pesticides


Attitude toward inhibitors

Medications

Previous medical history

Probable contraindications

Treatment with ChE inhibitor


myasthenia gravis

Alzheimers

glaucoma

Other possible problems


Anemia

degenerative diseases of the central nervous system

chronic colitis
psychosis
Obtain before exposure

30 days since last handling

Maintain records for future comparison
If its abnormally low

Recheck, average or discard

More tests are better than less

What does regression to the mean mean?
How Often to Test?
Retest with the same laboratory, same methods
Retesting every 30 days

When to do follow-up?

Rules state within 3 days of reaching threshold

Why are you testing?

To prevent future exposure
To evaluate work exposure

Decrease frequency with experience
Large difference between upper and lower range of normal

20% depression- Significant

30% AChE- Removal*

50% AChE- Poisoning

40% PChE- Removal*

60% PChE- Poisoning *California, WHO and ACGIH recommendations on removal thresholds


Act promptly
Evaluate for false positives
Assure removal if meets threshold
Be sure the workplace is evaluated
Communicate with worker and with employer
Plasma Cholinesterase
Drugs: therapeutic and recreational


BCPs, metaclopramide, cocaine?

Liver Disease-alcoholism Congenital Deficiency (3%)

Pregnancy

Nephrotic syndrome

Carbon disulfide, organic mercury
RBC Cholinesterase
Drugs and Reticulocytosis
Hard to find, Hard to know
Lack of depression when depression is truly present

Laboratory phenomena
Low baseline
Sample confusion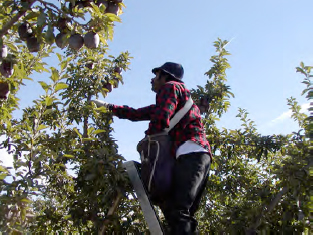 What else can they do?
Thinning? Probably not in sprayed orchards*
Know the operation
General work
*Engel and Keifer 1998, Keifer, Miller, Fenske 1995 Schnieder et al 1991)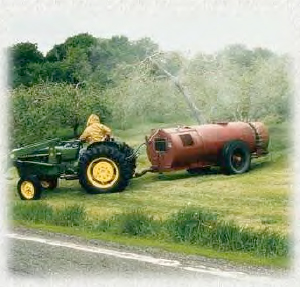 Return to regular duty
When both PChE and AChE get to 80%
File a Claim?
Records and Response

Dry run your response
Dry run you communication options
Check out removal options

Test the quality of your ChE laboratory

Blinded split samples to laboratory
How far off should they be?

If they approach thresholds, you're in trouble
Know the rules of Monitoring (WA state)

Obligations regarding confidentiality

Know something of the pesticide practices

Which pesticides, application frequency, PPE

Know your population

Language, culture, beliefs

Know how to respond to a depression

Check PPE & pesticides, removal options

Know the non-pesticide related causes of depression
Assure quality performance and worker protection

False positives
False negatives
Laboratory accuracy
Response to depressions
Advise employer
Counsel worker
Congenital cholinesterase deficiency

3% of Anglos, 1% of Blacks carry the gene
May influence susceptibility to ChE inhibitors
Will have low baseline values for PChE
Will have normal RBC ChE values
---