What happened to profitability in the national tree fruit industry?
Can we do anything about it?
What do we mean by technology?
A new, national effort for tree fruit
Global markets, Local inputs
Labor cost & availability
Trade policies
Consumer demand stagnant
Retail consolidation
Environmental accountability
Competing uses for farmland, water
Food safety & biosecurity
11/19/2001
The Packer

Apple growers jockey for room in export race


By Chris Koger, Staff Writer

When apple shippers discuss their export sales, it's a case of East meets West.
08/20/2001
The Packer


Tom Karst, Executive Markets Editor

Reduce supply or enhance demand. In the end, those are the options that Desmond O'Rourke outlined in a speech before the World Apple and Pear Association in Brussels, Belgium, earlier this month. And only one choice is really viable.
07/16/2001
The Packer

Ag bill clears U.S. House


By Jim Offner, Senior Writer

WASHINGTON, D.C. -- Produce leaders in the nation's capital say they don't anticipate any major problems in the Senate now that the House of Representatives has passed its $74.2 billion agriculture appropriations bill.
Saturday, August 11, 2001
Seattle TImes


By Linda Ashton
The Associated Press

YAKIMA — Just weeks before the 2001 harvest begins, the Washington apple industry is preparing to spend up to $5 million to keep a lot of last year's crop out of the fresh market
Marketing, promotion, and $$ assistance help, but is there anything else we can do?
Sure! We can figure out who to blame!
domestic/foreign competitors
government regulators
marketers
retailers
consumers
ourselves
The End of Agriculture in the American Portfolio
Stephen Blank, 1999
average net return to agriculture negative since 1994
"farmers could do better just depositing their money in the bank"
food production will shift to low cost producers
The Lexus and the Olive Tree
Thomas Friedman, 1999
"Technology created globalization and it is technology that will enable the US to compete globally"
Lower unit costs of production and processing
Continually improve and redefine product quality
Develop new products and processes
Restructure industry/research interaction
These are research challenges that require new investment
Apply existing knowledge and technology more fully
Develop and implement new technology, e.g. precision agriculture
Improve every step of the road to market
Quality is far more than color, size and firmness
Activists, consumers, distributors, government, etc. are demanding that food provide traditional attributes PLUS additional product qualities and assurances
Consumers will not eat more of the same
Explore changing tastes and habits
Develop products that meet emerging needs
Are GMOs in our future?
Industry firms and institutions must change

more market-oriented
technically adept and innovative
set an overall vision

Commodity groups must cooperate
Work force must understand technology and innovation
Science and Business must work better together
Systematic treatment of an art

The practical application of knowledge

A manner of accomplishing a task, especially using technical processes, methods, or knowledge

In the digital age, add information technology

As appropriate, add biotechnology
EARLY TECHNOLOGY IN THE ORCHARD


EARLY TECHNOLOGY IN FRUIT HANDLING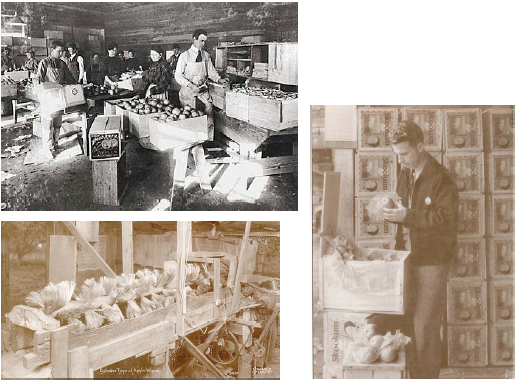 RECENT INNOVATIONS IN FRUIT PRODUCTION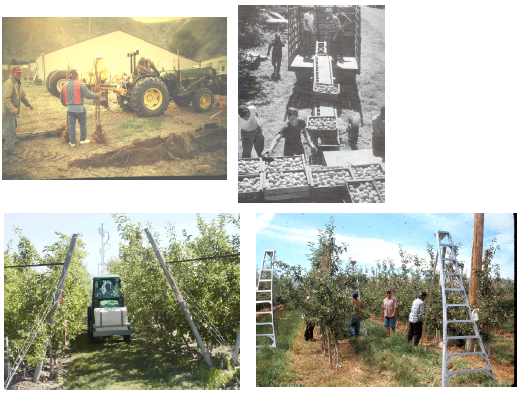 |
RECENT INNOVATIONS IN FRUIT HANDLING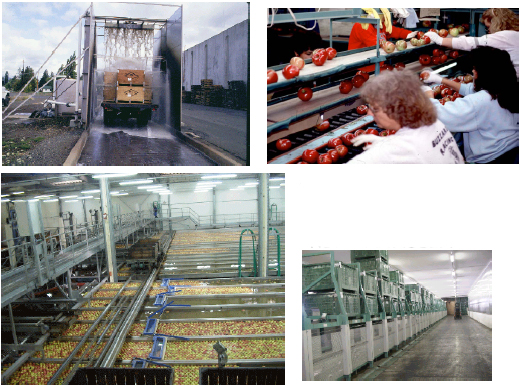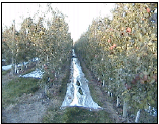 Orchard design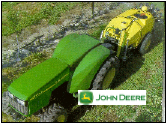 Robotic tractors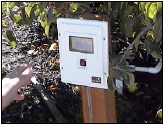 Water management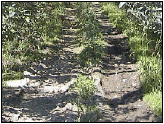 Canopy management
Remote sensing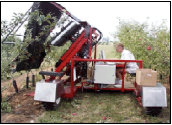 Mechanical harvest
Appropriate technologies exist
Our national tree fruit industry can compete:
climate, soils, water
capital proximity to markets
access to technology
Now is the time for action
RESEARCH PRIORITIES TO ENHANCE TREE FRUIT PRODUCTION THROUGH TECHNOLOGICAL INNOVATION
Dave Allan
Allan Bros. Fruit
509-949-0741
dallan@allanbrosfruit.com
Jim Doornink
Doornink Fruit Ranch
509-877-3392
jdoornink@bentonrea.com
Charlie de LaChapelle
7C's Orchards
509-837-5899
charlied@bentonrea.com
Dana Faubion
WSU Cooperative Extension
509-574-1588
faubiond@wsu.edu
Rob Lynch
Holtzinger Fruit Co.
509-952-5252
roblynch@mindspring.com
Jim McFerson
WA Tree Fruit Research Comm
509-665-8271
mcferson@treefruitresearch.com
Fran Pierce
WSU Ctr for Precision Ag Sys
509-786-9212
fjpierce@wsu.edu
To be profitable in a globally competitive marketplace, the U.S. tree fruit industry must deliver the highest quality fruit and reduce production costs 30% by 2010
Defines the
problem
-- increased global competition in traditional US markets
Identifies key
technical barriers
escalating production costs increased demands for fruit quality
Describes essential
R&D areas
Sets specific
R&D priorities
to overcome technical barriersAgricultural Sciences
Production and Harvest
Packing and Shipping
Utilization
Herb Aldwinkle
Cornell Univ
Geneva, NY
Phil Baugher
Adams County Nursery
Aspers, PA
Scott Cameron
USDA-ARS
Beltsville, MD
John Hickman
John Deere
Moline, IL
Jim McFerson
WTFRC
Wenatchee, WA
Develop a new, national strategy for tree fruit R&D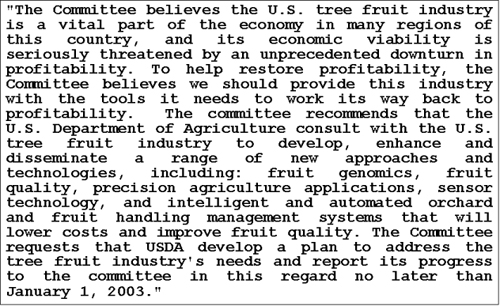 With help from USApple, Northwest Horticultural Council, Sens. Murray and Cantwell, and Reps. Walsh, Hinchey, Nethercutt
Herb Aldwinkle
Cornell Univ
Geneva, NY
Phil Baugher
Adams County Nursery
Aspers, PA
John Bukovac
Michigan State Univ
E Lansing, MI
Scott Cameron
USDA-ARS
Beltsville, MD
John Hickman
John Deere
E Lansing MI
Phil Korson
CMI
E Lansing MI
Jim McFerson
WTFRC
Wenatchee WA
Pete Nowak
Univ Wisconsin
Madison WI
Fran Pierce
Washington State Univ
Prosser WA
Clark Seavert
Oregon State Univ
Hood River OR
Darek Swietlik
USDA-ARS
Kearneysville WV
Mary Symms-Pollot
ID Dept Ag
Boise ID
Establish broad-based national steering group.
September, 2002
Obtain input from tree fruit producers and processors and the scientific, engineering and business communities.
Nov 2002-Feb 2003
Nationalize the Tree Fruit Technology Roadmap through a participatory workshop.
Mar 2003
Synthesize workshop input.
Mar-Apr 2003
Obtain further Congressional support.
July 2003
Define national industry/research effort.
Nov 2003
"The Committee encourages the Department to continue to work closely with the tree fruit industry to complete the Technology Roadmap process and develop a national research strategy.The Committee expects the Department to submit a strategic plan by November 31, 2003, that includes suggestions for future research initiatives, based on strong public/private collaborations." Initiate a new, national strategy for tree fruit R&D
With help from USApple, Northwest Horticultural Council, Sens. Murray and Cantwell, and Reps. Walsh, Hinchey, Nethercutt
Information technology
Plant breeding, genetics, and Genomics
Sensors, automation, and mechanization
Crop health, development & quality
Improved consumer products and food services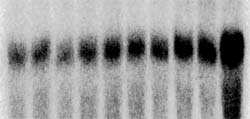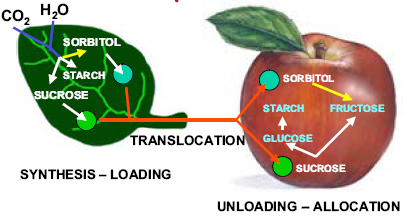 Gianni Teo, Ted DeJong, Abhaya Dandekar UC-Davis Lailiang Cheng, Cornell Univ
One minute real-time Temperature Broadcast to Base

2 minute random interval broadcast

Multiple receivers
Signal Wind Machine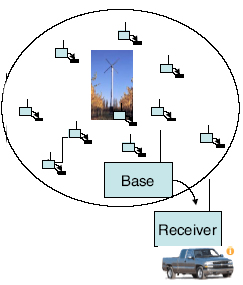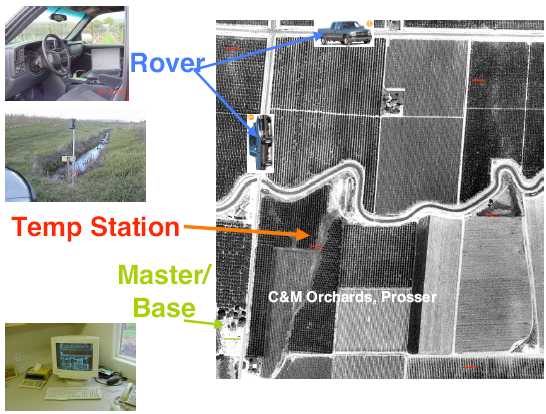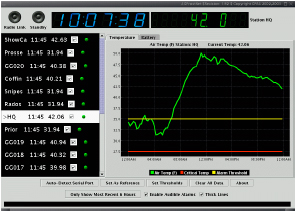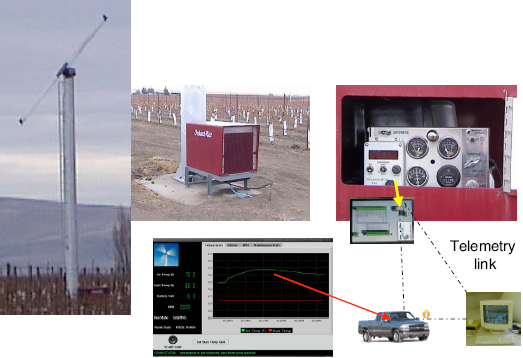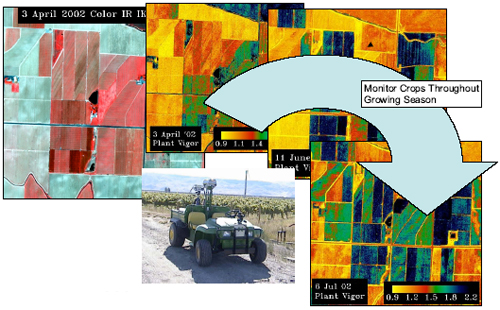 Monitor Crops Throughout Growing Season
Developing Remote Sensing and Geospatial Analysis To Improve Tree Fruit Production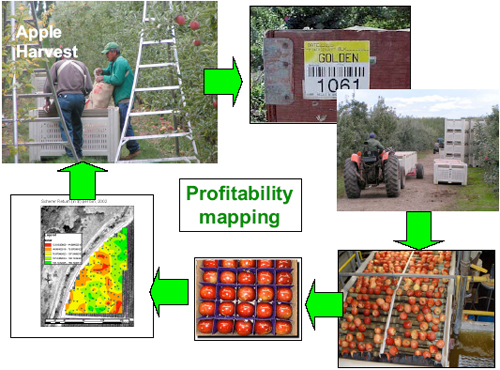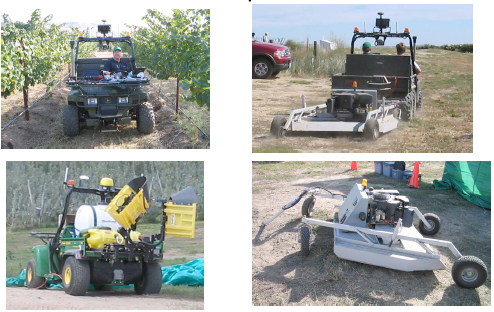 Jay Brunner
Vince Jones
WSU-Wenatchee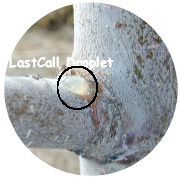 Attract and Kill for leafrollers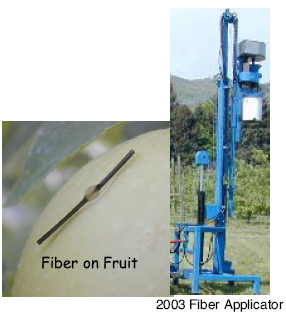 Fibers for codling moth and leafrollers
Gary Grove
Vince Jones
WSU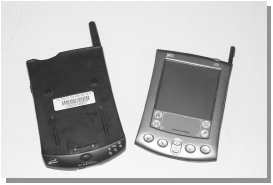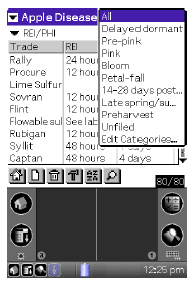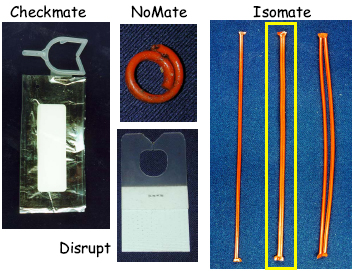 Are all dispensers created equal?
Vince Hebert
Jay Brunner
Vince Jones
WSU
Volatile trapping system (VTS)
Aged dispenser placed into teflon chamber and clean air passed over.
Volatile pheromone released and trapped.
Trapped pheromone extracted and the amount determined by GC-MS.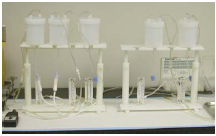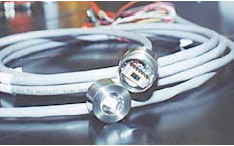 Sandia National Laboratory, Albuquerque, NM
Uses chemiresistor technology
Polymer coated on wire like electrodes on a chip swells as it absorbs a volatile compound. The swelling changes the electrical resistance in proportion to the chemical vapor concentration. Polymers shrink when chemical is removed and their resistance returns to original state.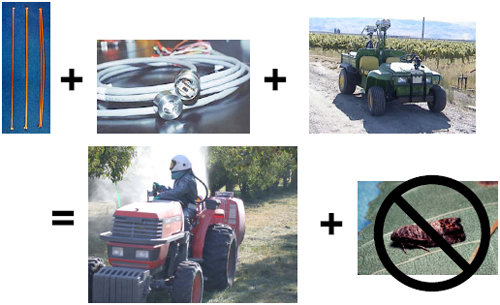 Precision agriculture and automation in fruit production, handling, and processing operations
Tree fruit genomics, breeding, and germplasm
Bio-intensive crop health programs with optimized fruit quality, safety, and nutritive value
Innovative, resource-efficient orchard systems
New fruit products
Real-time sensor and imaging capabilities carried via affordable and accessible rural
A multi-disciplinary, cross-industry approach.
Progress in single, isolated, technical areas will not be sufficient.
Research projects conducted in a parallel and coordinated manner.
No single organization has the breadth and depth of research skills required for the overall needs.
Research support may be given to one area, but this should be done in concert with other projects within the cross-industry system.
Maximizing worker productivity and safety while minimizing low-skill tasks
Reducing production and handling costs while providing the consumer a superior product
Enhancing stewardship of natural resources
Support from WA organizations
Support from other state organizations: ID, MI, NY, OR, PA, VA
National industry-researcher workshop
Support from Congress
First funding initiative underway
New research underway
---