Whether you are trimming a manicured lawn or slicing through saplings, the same basic principles of operational safety apply:
-- You should be thoroughly familiar with the mowing equipment --- its operating characteristics, capacity, and safety features.
-- To the greatest extent possible, the work site needs to be prepared on advance of the work.
-- You are responsible for your personal safety and that of others. Make sure that there are no bystanders in the work area. At no time should extra riders be allowed on the equipment.
A tremendous selection of mowing machines is available to farmers and landscapers. From walk-behind units and riding mowers, through tractor-mounted rotary, sickle bar, disc, or flail choppers, it is possible to select machines that are precisely suited to the task(s) at hand.
Safe equipment use depends on gaining a thorough understanding of each machine's capacity and operating characteristics. Be sure to find out what materials a particular mower can safely cut. For example, don't try to cut brush with a rotary mower designed only for grass, because you may be exposed to hazards caused by machine failure. Heavy-duty blades are needed to handle any type of saplings. Yet a small machine retro-fitted with heavy blades still may not be able to handle the job, because wood may clog the mower as it goes through the chute.
The best way to learn about a machine's capabilities and safety features is to study the operator's manual in detail. You must know how to operate your mower, tractor and various accessories. Determine the purpose of all the controls, gauges, and dials. Learn the safe speed, slope capabilities, braking and steering characteristics, turning radius, and operating clearances of the equipment.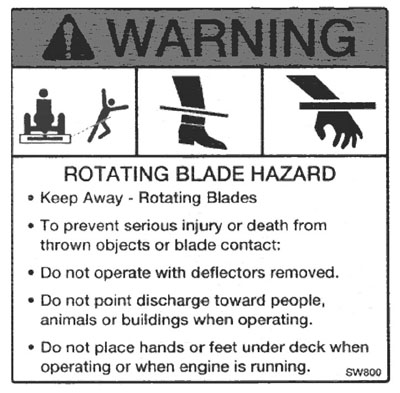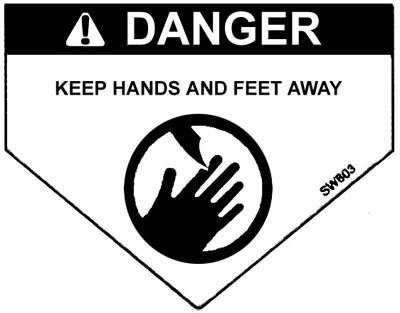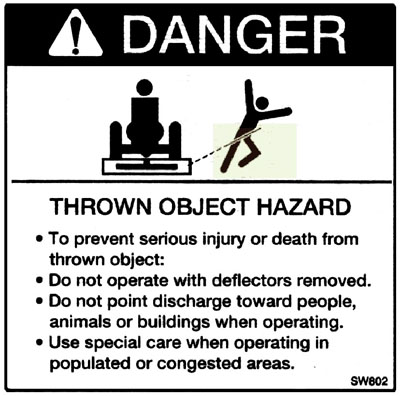 ---