Commercial fishing is the most hazardous occupation in the US. Information on chronic health conditions that affect fishermen is limited, yet we know that the work is seasonal and strenuous. This pilot study was designed to assess health and habits among the gillnet fleet based out of Cordova, AK.
We hope that awareness of these results will lead to more consistent use of hearing protection while fishing; greater attention to prevention of upper extremity disorders with proper ergonomics; and development of best practices to manage fatigue before and during the fishing season, including discussing OSA with personal health care providers.
PILOT PHASES
I. PRE-SEASON SURVEY
(67 participants)
II. FOLLOW-UP SURVEY
(45 participants)
III. EXAM
(21 participants)
IV. FITBIT
(9 participants)
SURVEY RESULTS
About 50% of survey participants reported hearing loss, and about 80% of the exam participants had noise induced hearing loss on audiogram.
About 50% of participants reported some type of upper extremity disorder affecting the shoulder, elbow, wrist, or hand.
EXAM RESULTS
The cardiovascular fitness level on exam was variable, ranging from poor to excellent.
All participants reported challenges with fatigue while fishing, and some had poor sleep during the off-season.
Many reported risk factors for obstructive sleep apnea (OSA), such as having a large neck, being overweight, or snoring, but only one participant reported being diagnosed with OSA. OSA reduces the quality of sleep.
METHODS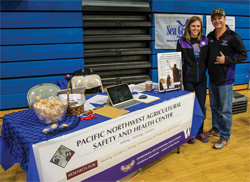 Sixty-seven fishermen responded as willing participants and completed the initial "pre-season" fishing survey. This survey collected basic demographics and assessed health habits during the off-season. A follow-up survey was completed by 45 of the initial respondents to assess how health priorities changed during the fishing season. Nine participants wore FitBit devices to monitor sleep and activity before and during the fishing season.
The study team traveled to Cordova in July 2014 to meet with local stakeholders and to perform physical exams on a subset of participants. A subset of 21 Cordova gillnetters participated in an extensive physical exam including fitness, vision, and hearing tests.
An in-depth health history interview focused on occupational injury and health-risk behaviors.
RECOMMENDED RESOURCES
PNASH Pilot Project 2014-2015
Debra Cherry MD, UW Principal Investigator
Torie Baker, UAF Alaska Sea Grant, Co-Investigator
Carly Miller, UW, Co-Investigator
Philip Tapang, UW, Research Assistant
Contact: uwsalmon@uw.edu, (206) 744-9380
---
Please contact us with your feedback & questions at any time.


PACIFIC NORTHWEST AGRICULTURAL SAFETY AND HEALTH CENTER
University of Washington, Box 357234 Seattle, WA
98195-3055 (800) 330-0827
pnash@uw.edu
Funded by CDC/NIOSH Cooperative Agreement # U54 OH007544
deohs.washington.edu/pnash,
pnash@uw.edu

Rev. 11/15
---